Wellprenuer
Beauty & Wellness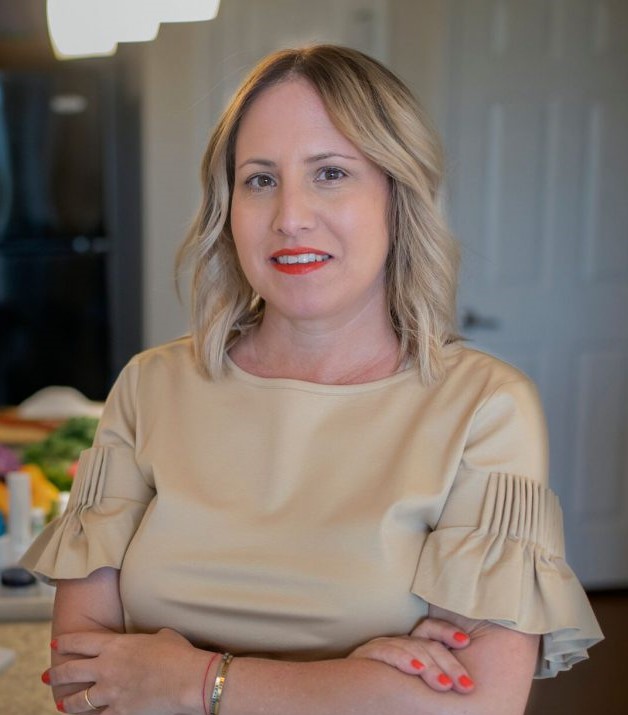 Meet Ali
I choose Ali to be my first wellpreneur of the month because not only is she running her own Beautycounter business but she believes in the whole of beauty, health and wellness. I had the pleasure of meeting her while living in Milwaukee, WI and I remember clearly walking through her door and I felt instantly I was there to have a cup of coffee with one of my longtime girlfriends, she & I had so many things in common that I felt I was home but in her home in one of the best towns in the city where you can walk down to the main streets or to great old Lake Michigan, it's almost like beachside living in the summer over there.

During my visit Ali had a beautiful table set up with all natural woods displaying all the Beautycounter products she sells. Ali has a vast knowledge of the products and in comparison with others knows in depth information of the ingredients. So I recently had a Q&A with her to share all she has taught me and a bit on our discussions that all entail beauty and wellness lifestyles.

What brought you to Beautycounter and why?
A friend whom I know saw I was overwhelmed searching for safer products for myself and family. At that time I was looking for the healthiest and safest products for my kids and myself for which I thought the products that I was buying because they said organic or natural meant it was good but learned soon after all that carries into these products and that some had ingredients that were not good for us to put on our skin. When I learned that Beautycounter bans over 1700 ingredients from there products you can imagine the sigh of relief knowing how much they care to remove harmful ingredients from all their products.

What is your daily from AM to PM beauty routine?
Step One: In the A.M. I start with Counter Control Pore Cleanser with jojoba beads which are biodegradable vs micro beads that sit in our water supply.


Step Two: I add Facial oil # 3
Step Three: I add Rejuvenating Eye Cream
Step Four: I finish with Rejuvenating Day Cream
In between I'm off to workout during the day, I'm either doing Barre Class or Infrared Yoga class and because I work from home I am usually not wearing makeup . But when I do its all the Beautycounter makeup line.


MY P.M. I repeat same as A.M. and change rejuvenating crème to the night one and 4-5 days of the week I use the overnight resurfacing peel that leaves skin look photo filtered.

What is your biggest success as of today with your business?
The women that have gotten involved seeing them grow professionally & personally along with seeing them have an outlet, watching them thrive as much as I do has been a HUGE GIFT.


I will also add seeing my clients sharing about the products that they buy from me is also rewarding.


What is something you can recommend to anyone in this interview to start using from Beauty Counter and why?
#1 Overnight Resurfacing Peel ( its gentle with next day results)


Next is to try one of our face oils to find your perfect match.


A must have is the makeup remover wipes as they are a one step process by removing makeup and then they cleanse your skin which is why you won't have anything to wash after using them, you can travel with them and they are not all dry. They are also biodegradable you can just compose them.

In Discussion: We go off topic a bit discussing water on face and if the PH balance in water affects our skin, which she mentioned in other countries they don't use faucet water they used filtered water bottles instead. Has us both thinking about filtration systems in homes and if not possible if using filtered water as they do elsewhere would help skin.


I do always suggest the shower filter as I noticed a difference in my skin, hair and especially my chest but now I'm wondering about the bathroom faucet when I wash my face. Something definitely to look into and try out filtered water at every wash.


As a mom and wife to your beautiful family what can you suggest to other wellpreneurs trying to balance all from personal to business work each day?
Now with both my kids in school I manage my work around there school schedule. I also take my self-care time making sure I get my workouts which are either yoga or my Barr Class as mentioned above. And when school is out so is my business, I try to focus as much as possible of spending the rest of the afternoon on them and of course I engage on social media but I limit it when I am with my family.

Do you think beauty & nutrition correlate?
ABSOLUTELY! You're inside glow correlates with your external glow.

And last tell us something about you that you would like to share with us?
I know all this can be overwhelming. I want people to know pick one thing just one thing you can change at a time. May it be removing using plastic bags or materials. Once you do that then switch to the next . Does not have to be all or nothing at one time it's about progress not perfection!


Special Note: Beautycounter just released a men's line of products called Counterman seems to me it's a great product to start all the men in your life using better and safer products also.